Queen Jet, (villian) DC Comics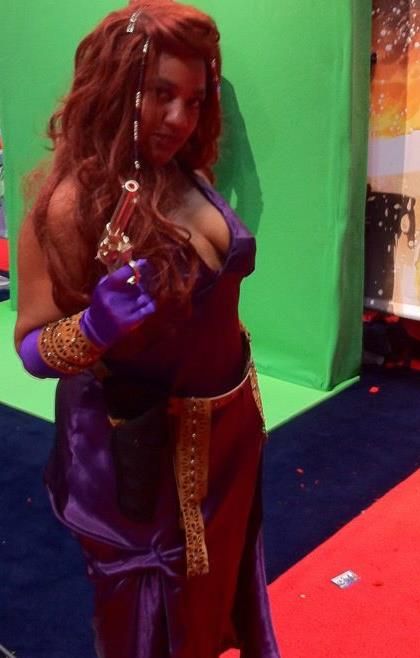 DC Nation: Thunder & Lightning - "Clothes Make the Hero" Video Clip
Sondra Fuller aka Clayface aka Lady Clay 
Sondra Fuller is the fourth and only female Clayface who was an agent of Kobra. She possessed the same abilities as Matt Hagen, but is more powerful. Sondra agreed to undergo an experiment involving shapeshifting because she hated her own face. She gained the shapechanging abilities of Matt Hagen, but at a much higher level. She can mimic the powers of anything she transforms into. However, unlike Hagen who returns to normal after some time and requires a particular protoplasm before he can become Clayface again, Sondra cannot return to normal, which she finds both a curse and a blessing.
As Lady Clay, she has battled the Outsiders and even formed a team with the other Clayfaces called the Mud Pack. During the events of the Mud Pack, Sondra Fuller began masquerading as the hero Looker and visited Preston at Arkham. That same night, he got into an argument with Helena and unintentionally knocked her head off. Believing he killed her, Preston went on a rampage until subdued in a nearby swamp by the Asylum guards. He was rescued by Fuller, who was still using Looker's appearance and powers, and used them to make Preston obey the commands of Basil Karlo, the first Clayface. Karlo ultimately betrayed Fuller and injected himself with Fuller's and Preston's blood. After Preston finally broke free of Fuller's control, he was about to kill her when she admitted how sorry she was for using him. The two fell in love and went on to live together in the hills outside Gotham, and Fuller became pregnant with their child, Cassius.
During Knightfall, Sondra attacked Azrael who was wearing the Bat-costume and was filling in for Batman.
Her motivation for the attack turned out to be that the villain Abattoir had kidnapped her son, Cassius Clay, and blackmailed them into returning to Gotham, where Preston should kidnap Graham while Sondra distracted Batman. The plan almost worked, but Azrael pressed the panic button on his modified costume releasing a sudden burst of energy that knocked out Sondra. He injected her with an anesthetic and left her for the police.
Neith
Appearing in the DC Comic Batwing #11 in 2012, Neith, an African woman named after the Egyptian goddess of war, served on the honor guard of Lord Battle and fought with Batwing and the Justice League International. She had brown eyes and grey hair and was nearly 6 feet tall. She was a skilled fighter and possessed superhuman strength, endurance and stamina. After her lord's defeat, it is unknown what became of her.
Blue Ice
Blue Ice aka Constance was a Mutant in DC Comics.
Created by Doselle Young and John McCrea, her first and last appearance was in Wonder Woman #154, 2000
With no known affiliations, she had the ability to amplify the radioactivity in a persons blood causing combustion.
Blue Ice was a villain who fought Wonder woman and unfortunately died in the very same issue that she made her debut.
HawkGirl
On Earth 2 during DC Comics New 52 the original Hawkgirl Kendra Saunders is re-imagined, she was one of the first characters to be introduced alongside Jay Garrick, Alan Scott and Al Pratt. She first meets Jay Garrick in Poland and the two travel together to Washington D.C. where they confront Solomon Grundy. After Al Pratt arrives and defeats Grundy he captures Hawkgirl, revealing that the two come from a similar government program and that she has escaped.
Created by James Robinson and Nicola Scott, she first appears in Earth 2 #2 2012. Her nationality and affliations are unknown.
Shs is skilled in armed and unarmed combatant, has enormous wings that can actually lift her in flight and carries an assortment of weapons such as knives and guns.
Solstice
Kiran is the daughter of archaelogists Vijay and Rani. They are from Delhi, India, but because of her parents jobs, she follows them around the world in search of artifacts and archaeological sites. During the Great Britain Archaeological Conference in London, she met Wonder Girl, making friends with her instantly.
Together, they fought against Lady Zand, the ruler of Zandia, who was trying to steal some of the artifacts in the sample at the Conference. By joining forces, Solstice and Wonder Girl prevented the acts by Zand, but the thief escaped.
Later, Kiran is in Mohenjo-Daro, Pakistan, alongside her archeologist parents and fellow archeologist Helena Sandsmark, who is the mother of Wonder Girl. While some of the other researchers have fled the dig site after recent discoveries, the foursome carried on. During the night, Vijay and Rani investigate the site when they suddenly go missing, prompting Kiran to begin searching for them.
The Teen Titans are called in by Kiran's parents' compatriot Dr. Helena Sandsmark. As she urges the team to help her find her parents, Kiran has began to affect the team and injects new life into it. Raven is instantly weary of her as she emits pure light, something that could be considered dangerous to her. Kid Flash shows an immediate romantic interest in her, prompting him to show off in front of her. The team encounters Indian demon Tataka and it is assumed that the demon has a role in the disappearance of Kiran's parents.
As the new Teen Titans form, Bart is locked in a holding cell for N.O.W.H.E.R.E.. Soon enough he escapes and runs down the halls. Initially trying to find his cell neighbor, Bart stumbles upon a holding cell labeled "Solstice". There he finds her as she is crying for help, completely covered in smoke. He saves her and they find their way to Red Robin with the aid of Danny the Street.
Solstice is a fairly new character and not much is known about her powers, except the fact that it allows her to fly, control and create light.
Renee Montoya
Renee is the daughter of Hispanic immigrants who graduated from the Gotham City Police Academy with top honors. She was originally created for Batman: the Animated Series. But, before debuting on the television series, her character was introduced in an issue of the Batman ongoing series in 1992 and had a reocurring role as one of the faces of the Gotham City Police department. She is also a beautiful, catholic lesbian who had a fling with Batwoman. 
While investigating a suspected drug ring at Gotham Imports, alongside new recruit Wilkes and Detective Bullock, Montoya was separated and fought alongside Batman. As a result, Lieutenant Hackle suspended them until further notice. Montoya still investigated and followed a lead to Gotham Dock's Hathcock Shipping. Montoya and Batman broke up the ring. Commissioner Gordon reinstated Montoya and the others, despite Hackle's protest.
When Harley Quinn and Poison Ivy first teamed up and went on a crime spree, they were constantly pursued by Montoya. Eventually, the Joker found Quinn and Ivy's hideout, as well as Batman. Quinn and Ivy attempted to escape but Montoya sniped one of the get away car's wheels and collared the two.
Montoya was soon promoted to Commissioner Gordon's aide and assisted him on various crime scene investigations, such as the kidnapping of Batman when Arkham Asylum was over run. Years later, Montoya was made full detective. 
Renee found herself on the receiving end of a frame job with someone trying to systematically ruin her life. It began with her being outed as a lesbian with pictures of her with her lover, Daria Hernandez, being circulated. Her homosexuality was something she long kept secret from everyone except her younger brother. Then, a bag of heroin was planted on her and the man responsible for the photos turned up dead, having been shot with her weapon. Renee suddenly found herself on trial with first degree murder at the top of the list of charges, and there was nothing her partner could do about it. Her connection to Bullock, a disgraced former cop, did not win her any favors with Internal Affairs.
What was happening became more clear when Two-Face abducted her from police custody, making it appear that she had escaped. He was the one responsible for destroying her life. Because of his warped obsession with her, he was convinced that leaving her with no option but a life with him would make her love him back. Renee fought to escape from him, and fortunately, Batman intervened. Two-Face was taken back to Arkham Asylum, and she was cleared of all charges. However, damage to her life and reputation had still been done.
Renee had fallen into a pit of alcoholism and depression so bad that even Daria gave up on her. Then, the Question inexplicably came to her and hired her as a private detective to help him investigate Intergang's presence in Gotham City. Once the investigation began, it only got stranger and stranger. Alien weaponry, mutated werebeasts, some kind of Religion of Crime. Soon, she and the Question find themselves pursuing the investigation well outside of Gotham.
Renee found herself in Kahndaq attending the wedding of Black Adam and Isis, where she presented a suicide bombing by shooting the girl rigged with explosives. For this act of heroism, Black Adam wanted to award her and Question with Kahndaq's highest honors. Instead, Renee drank herself into a stupor and went off with another woman to get over the fact that she just shot a girl. Their continued investigation into Intergang in Kahndaq led them to discovering how Intergang was using and abusing children for their ends. Along with Black Adam and Isis, they were able to dismantle the operation and surprisingly reunite Isis with her younger brother, Osiris.
Question brought Renee to Nanda Parbat to meet Richard Dragon, the man who taught him to cope with the anger that Renee struggled with now. So Dragon began teaching her, but she did not understand what he was trying to teach exactly. An old friend Question's, Aristotle Rodor, was also there and spent the time trying to decipher the Crime Bible they brought with them for answers. While there, she learned the truth about Question. He was dying and did not have long left.
Tot determined that what Intergang was trying to do in Gotham was bring about a prophecy that required the sacrifice of the twice-named daughter of Cain, and that was all Renee needed to hear to realize what the tangible danger. Kate Kane, a secret love from Renee's past, was now operating in Gotham as the new Batwoman. That was who Intergang wanted. Renee and Question returned to Gotham to warn her, but by the time they got there, Question's condition worsened to the point that he barely stand anymore. Renee and Kate were reunited for a short time, watching over Charlie together and spending the holiday season with one another. But Question's days were coming to an end, and Renee could not stay. She did all she could to get him back to Nanda Parbat in time, hoping something could be done there to keep him alive. Unfortunately, she dragged him practically to Nanda Parbat's doorstep when they could make it no farther and the Question passed away.
Again, Renee had tragically lost a partner. She mourned for Question in Nanda Parbat, continuing her training under Dragon. There was a question that she had been asked several times in past several months that she did not have a satisfying answer to. Who was she? Eventually, she knew it was time to leave. She had to return to Gotham and make sure she did not lose someone else she cared about. Intergang was still targeting Batwoman.
Renee to Gotham knowing who she now was. She was the Question. Intergang had already abducted Batwoman, but with the help of Nightwing and others, she was able to track down where the ritual sacrifice was to take place. She arrived but was unable to stop Bruno Mannheim from stabbing the knife into Batwoman's chest. She fights Bruno away from Batwoman, giving Batwoman opportunity to pull the knife out and throw it into Bruno to kill him instead.
Batwoman survived her severe injury, and Renee was now at the end of her year long journey, having finally found herself as the new Question.
I know I haven't done Catwoman yet, but heres an appreciation post in honor of the new Batman movie that just came out. :D
VooDoo
DC comics, after assimilating the wildstorm universe, has classified Voodoo as African American. Her skin pigmentation since inception has fluctuated from a light brown to sometimes Caucasian (Much like Monet St. Croix). Within the new series however she classifies herself as "mixed race". Also of note her unique physical traits can be attributed to her alien ancestry explaining why she has Caucasian features (hair etc) while still being Black. Voodoo is also one of the very few Bi-sexual characters in mainstream comics.
 Trained in the alien martial arts for of the coda by zealot. Later trained in Voodoo magic.
Priscilla was born a human/Kherubim/Daemite hybrid who lived oblivious to her true nature. She became the main attraction at an exotic nightclub where she was a dancer. She was saved by the wildcats when her unique ability to perceive daemonites who possess humans. Once on the team she was trained by Zealot in the martial arts of the Coda and began a relationship with team leader Spartan. She later entered a coma and her ancestry was discovered.
When the team travelled to Khera the Kherubim home world she experienced the victimization of Daemites and the lies of the Kherubim. This pt a strain on her friendship with Zealot and even after returning to earth she was left deeply affected and left the team. Moving to New Orleans she again took to exotic dancing and came in conflict with a few Voodoo sorcerers. The experience leads to her studying voodoo under an old witch.
She later moved in with maul and had her legs severed in an accident. While recovering she was approached by a daemonite who claimed to be her grandfather and taught her how to use her powers of regeneration and time manipulation. With her legs re-grown she stared a relationship with Maul though the increased physical sexuality made her power grow stronger and she began both manipulating him and sleeping with other men.
After this she returned to dancing but this time only privately for high end clients such as billionaires at this point she returned to the wildcats and helps battle the knights of Khera. She then communed with the dead in the Garden of ancestral harmony. At the end of the conflict she was tasked with finding the new doctor.
 A gifted high level Psionic talent. This allowed her to the ability called "the sight" which allowed her to see Daemonites who possess human bodies, see hidden truths about people and see through illusions. Other abilities include a Psi-Blast which induces pain and shuts down minds. She can read minds, take control of others and cast illusions. She also has the unique ability to pull out and separate a Daemonite from its host. Lastly she possess empathy to sense emotions on a limited basis and possess a magnetic attraction from the opposite sex, combined with her beauty this makes her irresistible to men.
Voodoo is an Alien-hybrid. She possesses a human-Kherubim ancestry grants her strength and durability beyond a human. Since pure blood Kherubim are also immortal she has a measure of longevity beyond humans. In this form she loses all her Psionic abilities but gains enhanced speed and strength and uncharted regenerative abilities (She once regrew severed legs). Claws capable of shredding flesh limited time manipulation and even the ability to perceive and manipulate magnetic fields. She was later trained in voodoo sorcery while in Haiti.
In the DC Comics New 52, Priscilla Kitaen was born in Vermilion Parish, Louisiana. At age four her mother died in a fire and she disappeared for twenty three years. She returned to earth after time on another planet as a sleeper agent to gather information on earth's heroes.  She broke into a top secret government facility and stole information on the Justice League. She also briefly fought Green Lantern Kyle Rayner.
Tactile based Shape shifting- by touching someone she can assume their form but it causes her pain to change. 
Toxins- She has displayed the ability to render a man unconscious through a kiss and stated she used toxins to do so.
Telepathy- She can read the thoughts of others
She has also displayed the ability to fire spikes from her skin with deadly precision.